The In-flight variable pitch hub

More than fifteen years ago, FP-propeller made the in-flight variable pitch hub for propellers to be used in Micro-Lights.
The machining of the hub parts, carried out in numeric control station of last generation, assures the best of mechanical precision in the pitch motion.
The hub servicing, along the operating live, is reduced just to functional check and internal cleaning; it is to be carried out every two years or every 200 hours of flight.
Today, different hub models are available, two-blade and three blade, in order to obtain the best coupling with the blades of different size.
The blades are our own production by proprietary technology or are made by the world known propeller maker: Sensenich, Whirl Wind, Warp Drive, DUC Hélices.


Electrically driven Hub
The blade pitch variation is achieved by electric servo-motor.



The servo-motor is made under our own project and is produced for FP-propeller exclusively.
The primary characteristics we done to our servo-motor are:
- Guaranted and tested functionality up to 6000 rpm of the propeller
- Epicyclic gearbox entirely made in metal
- Long durability (>2000 hr in the range -20°C +40°C)
- Absolute reliability of the functionality

The electric hub FP-propeller was designed in order to achieve the pitch variation speed of 3.5° /sec. This value was assumed because it is the maximum value of the pitch variation that can be controlled manually


Main Features:
safety factor higher than 10
mechanism motion over bearings, in order to eliminate wear and tear
pitch range limits, upper and lower, adjustable
safety block for the lower pitch limit, in order to prevent in any case the "reverse"
manual tuning of the blade pitch in the case of electrical breakdown
TBO of 2.000 hours
Power supply: 12VDC or 28VDC
Hydraulically driven Hub
Recently, the electric motor in the hub was replaced by the hydraulic piston. The hydraulic version of the hub was realized for the pilot who likes this solution.
In particular, the hydraulic piston we made is absotutely free of oil leakeges on the sealing parts. The propeller pitch driving can be obtained by two systems:
• injection pump with electrical or manual motion
• hydraulic constant speed governor (i.e: Jihostroj)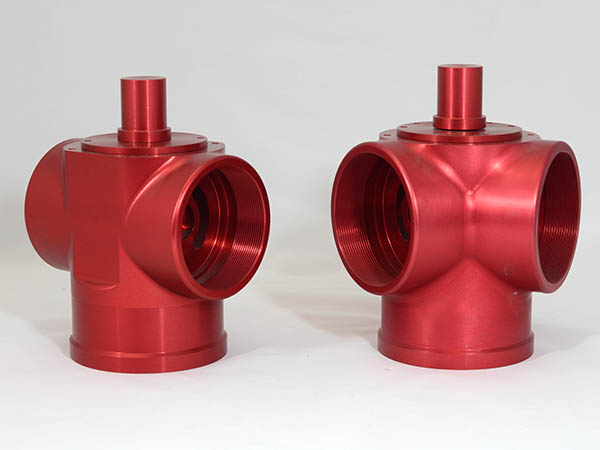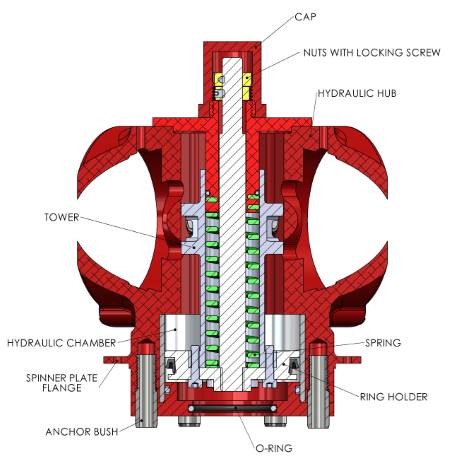 Main Features:
safety factor higher than 10
mechanism motion over bearings, in order to eliminate wear and tear
high speed in the blade pitch variation
pitch range limits: lower, adjustable
TBO of 2.000 hours